HistorySoft in the news:
Archaeologist, historian try to solve mystery of statue missing 154 years
WIS-TV: By Renee Standera
WIS-TV Story and video link is here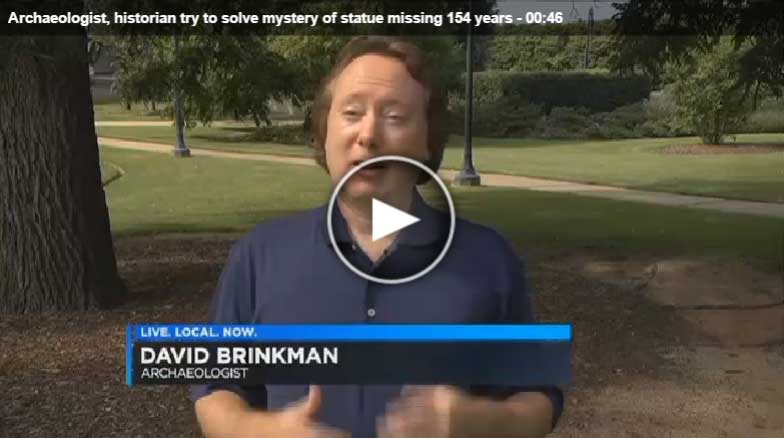 COLUMBIA, SC (WIS) -
A historic statue of John C. Calhoun survived the shipwreck that brought it to this continent, but a local archaeologist and historian are trying to determine if it survived the ravages of Sherman's Army when it marched through Columbia.

"I actually came across a photo of the statue," said David Brinkman. "Here's this, it's like a Roman statue, a toga, and that it's John C. Calhoun and it was burned in the burning of Columbia, you know? Destroyed. Lost. And so that really got my fascination with it."

It was commissioned by the City of Charleston in 1844 by noted American sculptor Hiram Powers.

The 7-foot statue was such an icon, its image was used on six different pieces of currency, including the Merchants Bank of Cheraw. Because of Calhoun's political views, it was also a symbol of what the Union Army was fighting against.

"The Union did not like Calhoun," Brinkman said. "They did not like images of him. So they would have loved an opportunity to destroy an image of him if they ever came across it. So we kind of felt like that's probably not what happened but we wanted to get more details on it."

But was the statue lost in the Columbia fire in February 1865? That's what Brinkman is trying to determine. He has spent years investigating archaeological sites in the Columbia area, including Fort Granby in Cayce.

"All accounts say it was moved to Columbia where it was destroyed," he said. "How come there are no pieces of it?"

Brinkman believes the statue may be buried under the grounds of the South Carolina State House. Particularly drawing the attention of the Union troops, the old State House burned in the fire of 1865.

"The building burned, collapsed." Brinkman said. "That would have all filled in...anything that was in that building could still be in the bottom of the basement hole."

Powers shipped the statue from his studio in Italy to Charleston in 1850. But en route to the US, the ship carrying the statue sank off the coast of Long Island. According to Brinkman's research, the sinking of the Elizabeth inspired the Elizabeth Barrett Browning's poem Aurora Lee. Three months later, the statue was located and retrieved and sent on its way to Charleston, where it would be displayed in City Hall and it was last reported being seen.

"When you do history research you start coming across all these little facts and they start filling up your head and puzzles begin to come together," Brinkman said.

To protect the statue as General William Tecumseh Sherman's Union Army approached South Carolina, Brinkman said a book written by Charleston Art Historian Anna Wells Rutledge reports the statue was shipped to Columbia for safekeeping.

"The book says the statue was moved to the Old State House," Brinkman said. "Now, Tom (Elmore) has pointed out maybe they meant the Old State House in Charleston."

"It's still kind of a mystery,"Brinkman said. "It could be at the depot, it could be at the Old State House, could be the old Capitol Building, which was also mentioned."

Brinkman has been collaborating with Columbia historian and author Tom Elmore, who has researched extensively the Union Army's path through South Carolina.

"Dave asked me if I ever came across any references to the Calhoun statue and I went back to my voluminous notes...looking at the civilian accounts and Union accounts and basically came up empty," Elmore, who said he found no references from Union soldiers about seeing the statue in Columbia.

"With Tom's theory, it was moved at the last minute to--and it probably came into the railroad depot here in Columbia, in which case, there may have not been anyone to move it," Brinkman said.

That depot was where Wet Willies is today in the Vista. It, too was destroyed in February 1865.

"I think it was never uncrated because it was just too awkward, too heavy," Elmore said. "And I think the people of Charleston thought it was just being kept here for safekeeping and not put on display, so when the freight yard blew up, so did the statue."

Despite Elmore's theory, Brinkman wants to conduct archaeological research on the site of the old State House. Part of his investigation is knowing exactly where the building was, which is not where a stone currently stands to mark the site. Brinkman said the building also was moved slightly to make room for construction of the current State House.

"There's a lot of evidence on exactly where the old State House was located," he said. "The only place I think it could be found is if it was in the old State House, in the basement and the Union Army somehow or other didn't know about it."

"At the time of the war, it was probably revered by South Carolinians much in the same way that we, today, revere the Statue of Liberty," said Elmore.

A miniature Parian ware statue is in the collection of the Gibbs Art Museum in Charleston. Brinkman also tracked down a bust, possibly made from a cast of the statue, in the North Carolina Museum of Art.

"I think if you were to find it today, it would be huge news in the art world," Brinkman said.

Click here to read Brinkman's extensive research.

Click here to see images Brinkman compiled in 3-D.

Copyright 2016 WIS. All rights reserved.